Fieldsets
Field set - is fields grouping that improves perception of the form.
To add field set to the form press Add Field Set button in the form edit screen.

After that you will be redirected to Field Set edit screen.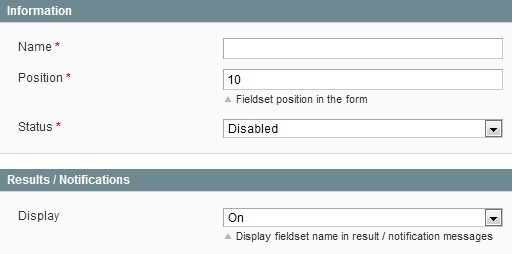 Field set parameters
Information
Name
Field set legend label.
Position
Field set position relative to other field sets. Less value puts field set higher in the form.
Status
Toggle field set display with all related fields.
Results / Notifications
Display
Display field set label in notification letters and published results.
Field sets management
To manage existing field sets select Field Sets tab in the form edit page.

Actions
Delete
Delete field set but leave related fields with removing field set assignment.
Change status
Change field sets status to Enabled / Disabled.
Duplicate
Duplicate field sets and all related fields. All duplicates will have Disabled status.