Manage Forms
The Manage Forms at the top of the admin page next to magnifying glass icon.

Another way to access the Manage Forms page is through the Content section.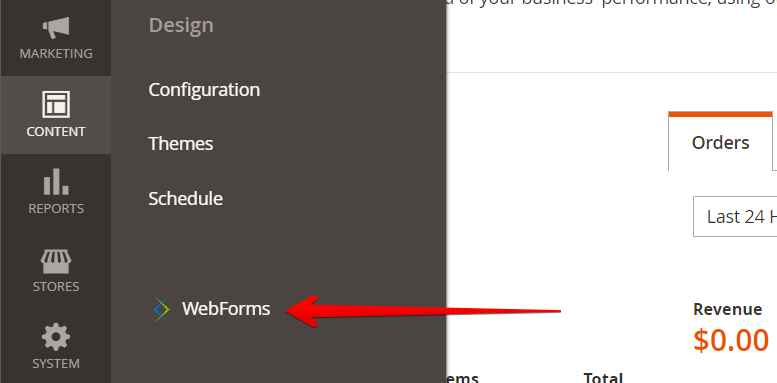 The Manage Forms page contains a grid with existing forms and allows you to create or modify them.

Action buttons​
Import Form allows you to import the web-form from .json file.
Add Form creates new form.
Grid mass actions​
To perform the mass action with web-forms please check several forms in the grid first.

Delete Deletes selected web-forms from database and cleans all submission data.
Duplicate Create a complete copy of selected web-form with translation and logic.
Change status Change status of selected web-forms.
note
The submission data is not copied on duplication.
Grid columns​
ID The numerical identificator of the web-form in the system.
Name The name of the form.
Fields The number of fields in the form.
Results The number of submitted results. [View] link shows the result grid.
Status The status of the form. The form can be turned off and removed from the site if Disabled.
Date Created The creation date of the form.
Last Modified The date when the form was modified.
Action You can perform following actions with the form:

Edit the form.
Results - view submissions.
Export the form to JSON file.
Preview the form in the frontend.
note
Please don't use the preview link as a regular link to the form for your customer. Set the form URL address in the Search Engine Optimization tab or embed the form in CMS page using Insert Widget button.